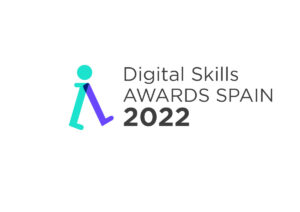 On 20th October the V Alliance Forum for the Development of Digital talent was held in Madrid, during which the Digital Skills Awards Spain 2022 were presented.
The FamiliKLIK project was one of the projects recognised in the "Digital skills for everyone" category.
The aim of these awards is to identify, assess and recognise the best projects and experiences within the field of developing talent that enables digital skills for society, ICT professionals, education, women and girls, inclusion, the digital market and vocational training.
The FamiliKLIK project from Vitoria-Gasteiz was selected as a finalist within the Digital skills for everyone category, where it competed directly against the BIZUM App, which ultimately won the award.
Some of the team members travelled down to Madrid, while the others viewed it live from Vitoria-Gasteiz.
FamiliKLIK is a project developed by the Sartu Álava-Saregune Association, launched in conjunction with the El Campillo Street Education team. It has been funded by the Basque Government's Department of Education, through its Technology and Lifelong Learning Department and has received the support of Vitoria-Gasteiz City Council's Education Service.
With the aim of reducing the digital divide within families by improving digital skills, the young women of the Street Education Programme produce video manuals to help families learn how to manage technology from home and in their own language. These are now available in 6 different languages, so you can watch the videos on the FamiliKLIK website.
We have included references in different media